RESOURCES:

BOOKS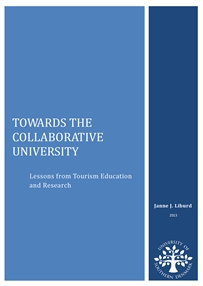 The chapter on the BEST Education Network has been published in:
Liburd, Janne J. (2013).
Towards the Collaborative University. Lessons from Tourism Education and Research.
Professorial Dissertation. Odense: Print & Sign, University of Southern Denmark, pp. 217-242.
This case study provides insights on the collaborative processes and methods applied by the Building Excellence in Sustainable Tourism Education Network (BEST EN) to develop research and teaching materials in the area of sustainable tourism. The philosophy of BEST EN is based on the sharing of knowledge, social interaction, and open collaboration among universities, with industry, nations, and over time. BEST EN has convened during annual think tanks since 2001. The main objectives of BEST EN think tanks are to generate information that can be used to identify research agendas, develop case studies, and to assist in the development of educational materials for sustainable tourism courses in higher education. The think tanks are three-day events typically taking place during summer at a university where sustainable tourism is taught and researched. Each year, the think tank has a particular theme related to sustainable tourism and sets out to advance the development and knowledge on the topic at hand through collective knowledge exchange. The case study is informed by insights from my involvement in BEST EN since its inauguration, holding the position as Chair in 2005-2010, and on-going involvement at the executive committee level.
The case study commences with an outline of the rationale behind the focus of BEST EN on sustainable tourism to highlight a multi, inderdisciplinary, and holistic understanding of sustainable tourism development. Seen through the lens of Actor Network Theory (ANT), a closer look at the network's agency and effects will help expose the enrolment of human and non-human actors. Specific attention will be paid to the methods and modes of open collaboration between tourism scholars and industry practitioners lending their expertise to joint knowledge creation. At last touching upon the issue of individual and collective ownership, critical reflections are provides on the tangible outcomes of BEST EN, as all materials were experimentally published in open access as well as traditional, copyrighted formats. Overall, the case study aims to provide a deep understanding of the collaborative forms and content, holding together a thematic network of engaged tourism academics across institutions, nations, and over time.