RESOURCES:

BOOKS
About the Book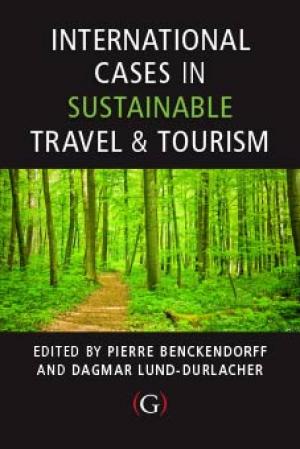 Case studies are an indispensable learning tool, not only in the classroom but also in academic research, consultancy and practical business management contexts. Case studies present real situations, allowing a balance of theory and practice. They have the power to transform the learning the abstract and uninspiring to one that is targeted and vibrant.
International Cases in Sustainable Travel & Tourism provides an international range of outstanding new cases focused on sustainable tourism management and development, including award winners and finalists from the WTTC Tourism for Tourism Awards. They are written by local scholars who are experts in sustainable tourism. They all have a range of features ensuring their quality and applicability:
Based on a joint initiative of the World Travel and Tourism Council (WTTC) and the BEST Education Network (BEST EN), organisations that are at the the forefront of both sustainable tourism practice and teaching
Each case is rigorously and carefully structured for maximum teaching and learning impact- this includes a clear synopsis, appropriate theoretical frameworks, and a clear summary and future outlook;
Every case is fully supported by features to increase deep understanding of the principles and practice it contains- clear learning outcomes, full references and directed reading and challenging study questions;
In addition to each case the authors provide educators and trainers with detailed background teaching notes, indicative answers, a recommended teaching approach and teaching slides in PowerPoint;
All the cases are also available online for individual purchase at www.goodfellowpublishers.com and for library and site purchase through all major online suppliers.
The book and the individual cases will be an essential teaching and learning resource for both undergraduate and graduate students in Tourism. It will also be of interest to academic researchers and planners, managers and developers of tourist destinations. It will be ideal for the increasing number of sustainability subjects in tourism degrees worldwide.
To receive an exclusive 10% discount on the book enter the code BESTENGP at checkout when buying directly from the Goodfellow Publishers website.
Contents
Introduction
Part 1: Destination Stewardship
Alpine Pearls: A Network Promoting Environmentally Friendly Holidays
D. Lund-Durlacher, A. Hergesell & K. Mentil
Planning for Sustainability: The Okavango Delta Management Plan
H. Manwa
Montenegro: Wild Beauty
C. Baumgartner
Tourism and the Great Barrier Reef: Healthy Reef, Healthy Industry
C. Briggs, G. Moscardo, L. Murphy, M. Gooch & B. King

Part 2: Global Tourism Business: Leading the Way
Accor Standing for Children's Rights in Tourism
C. Tepelus
Banyan Tree: Embracing the Environment, Empowering People
T. MacLaurin & M. Chiam Kah Min
Corporate Social Responsibility and the Sustainable Tourism Practices of Marriott International
C.S. Deale

Part 3: Conservation & Community Benefit
Zakynthos: Supply Chain Management and Customers' Involvement in Tourism Sustainability
M. Sigala
Back to the Roots: Agritourism in India
N. Häusler & D. Kasüske
Namibia's Communal Conservancy Tourism Sector
J. Ndlovu
Whale Watch Kaikoura
S. Wearing & P.A. Cunningham

About the Editors
Dr Pierre Benckendorff, Senior Lecturer, School of Tourism, The University of Queensland.

Dr Dagmar Lund-Durlacher, Department Head, Dean, Department of Tourism and Hospitality Management , MODUL University, Vienna.